Prepare yourself for a healthy, fulfilling relationship?

Learn how to build stability and joy in your relationship?

Master the skills needed to support a long term relationship?

Gain the knowledge to navigate the sticky situations that will arise during a long term relationship?
LOVE: A Guide To Life Partnering, offers a step-by-step way to more deeply understand how a relationship functions, and is a must-read for anyone who is interested in building loving, healthy, vibrant life-long relationships!
Long-term relationships are complicated; there's no getting around that! It's easy to get started when the infatuation levels are high, but how do you navigate the journey ahead to ensure lasting success in a relationship?
This book functions as a guide for those looking to deepen their understanding of long term relationships. There are 24 actionable skills covered in this book, including things like:
How to have difficult conversations

How to keep your relationship exciting

Tips for dealing with your in-laws

How to avoid losing yourself in a relationship
Order your copy of LOVE: A Guide To Life Partnering and experience the empowerment that comes with knowing that you are completely capable of having a successful long term relationship!
Note: The book photos on this page are mock-ups, and not fully representative of the paperback version of the book.
I thought that as a priest who has seen a share of the messes and marvelousness of the world, I would have "building a successful and fulfilling relationship" reasonably figured out. But LOVE made me pause and dig deep into myself and my relationship. Amy & Rhea give you the blueprints and the list of tools you need to build a house that will stand, with all the warmth and good advice you'd expect from a good friend over a cup of tea. It's as if they take your hand and say, "We've walked this trail before and know the way. Come on, let's go together."
If you're looking for a "quick fix" guide to the magical relationship, this is not your book. What you will read here is far more compelling, far more deep, and most importantly, far more real. Couples therapy experts Dr. Merck and Dr. Montanez deliver a beautiful and whimsical book in the form of a guide — an experiential exercise of loving, a love letter to the reader, to the work that has sustained them as clinicians, and to lovers who are interested in meaningful, textured relationships in a messy world.
These co-authors — in crystal clear prose that is simultaneously conversational and confident — provide a toolbox chock full of skills to negotiate the often bumpy, always changing topography of a loving relationship. You'll find yourself returning again and again to dog-eared pages for pragmatic direction.
Amy and Rhea are back with more great wisdom, stories, and practical life skills that make romantic relationships work! As someone who's been married for 22 years, I admit there were some skills mentioned I need to sharpen. This book is a great resource and conversation tool. I'll be referring friends and clients to it often.
Healthy couples do the things that unhealthy couples avoid. Period. That's it. Read this book. Build your marriage. Don't wait for the hurricane to come before you say to eachother, "I guess we need a roof." Amy and Rhea have provided an artful way to navigate the laboratory of family systems that make each marriage unique and altogether the same, two people doing life together in messy, marvelous love.
This book is an essential guide to all things relationships. Amy and Rhea distill decades of experience working with couples, as well as their personal wisdom, into 20 actionable relationship skills — from "building trust" to "learning to fight." Each chapter contains engaging anecdotes, thought-provoking questions, practical exercises, and links to additional resources. Whether currently in or out of a relationship, readers will take away valuable tools that they can use right off the page.
Finding creative solutions to the challenges of coupledom requires a willingness to risk being hurt in the pursuit of one of life's most meaningful journeys. By supplying mental exercises, often humorous real-life examples, and a wide range of additional resources, Merck and Montanez are expert guides to the messy, marvelous world of deep commitment.
It is hard to describe the privilege of sitting with couples in the messes of their lives. When a couples comes to therapy and lays the raw reality of their shared world at our feet with a plea for help, we know we are holding a sacred entity, a fragile relationship in need of care, repair, healing, and hope. Each of us has worked with couples for over 30 years, and there are no words for the gratitude we feel for each and every one of those brave souls. The amount of honest reflection, willing hearts, and hard work done in our offices reflects the importance of these primary relationships. So to each and all of the hundreds of couples who have trusted us and taught us how to be better therapists, this book is for you.
Rhea Ann Merck, Ph.D., is a Licensed Psychologist in private practice, and Clinical Sport Psychologist with Athletics at the University of South Carolina in Columbia, SC. 
Amy Sander Montanez, D.Min., is a Licensed Marriage and Family Therapist, Licensed Professional Counselor, Board Certified Coach, and Spiritual Director in private practice in Columbia, SC.
Amy & Rhea's first book together is called LAUNCH: A Guide To Adulting, and is available on Amazon as well as the Messy Marvelous shop.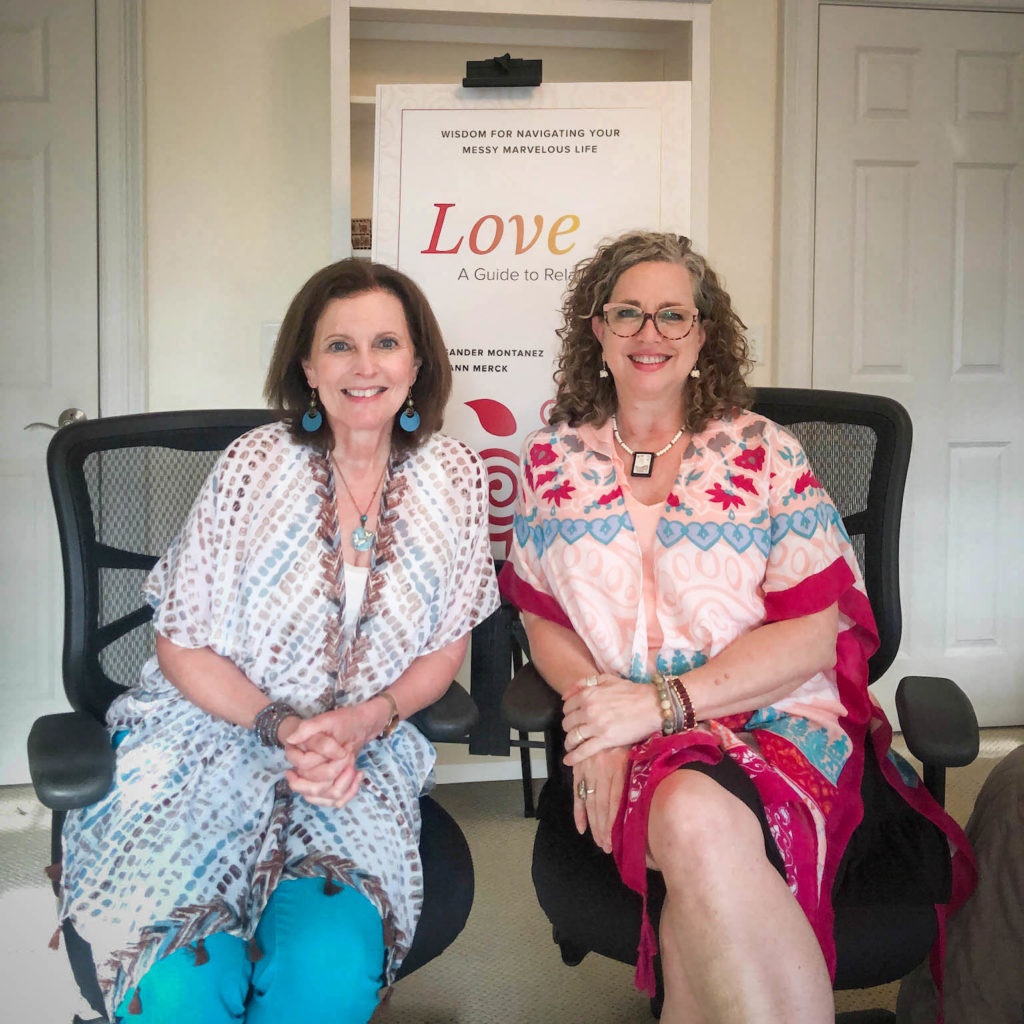 Follow Messy Marvelous on social: